eSTARS 2020
National Research University Higher School of Economics (HSE) in cooperation with the global educational platform Coursera hеld the eSTARS International Scientific Conference on 1 – 2 December, 2020 online.
For the third time, HSE brought together researchers, practitioners, experts, opinion leaders, visionaries, executives, education leaders and representatives of the business community to discuss the main challenges that education faces in a rapidly digitalizing economy. The eSTARS 2020 main topic was "Transformation of Education to Meet Global Trends of the Digital Economy."
eSTARS 2020 provided a platform for scientific and expert community to discuss topical issues, which universities face today due to the increase of the mutual influence of digital technologies, economics and education.
Greetings from the Minister of Higher Education and Science to the participants of the international conference eSTARS 2020
The summit was attended by over 1000 people from 150 universities around the world, 100 speakers from the academic world and business took part. During the two days of the conference, the participants considered the following issues:
How to combine the depth and fundamentality of education with the requirements of flexibility, rapid change and increasingly shorter formats of teaching?
What management decisions and schemes will be relevant and effective to support the digital transformation of universities?
How, under the influence of new digital technologies, is the educational system changing at the global, regional and local levels and what do these changes bring to every single university?
On what key points should successful universities focus their efforts and finances?
What demands do digitalized companies make to educational system and competencies of graduates?
At the plenary session and the first session, representatives of the world's leading universities, their associations and educational platforms spoke about the role of digitalization in the development of higher education, about the impact of the pandemic on the educational process and about new approaches to organizing the interaction of teachers and students.
ESTARS 2020 conference materials
Conference program December 1
Conference program December 2
Watch more videos from eSTARS 2020 on YouTube channel
eSTARS 2020
Definition of the strategy and prospects for the digitalization of education.
Discussion of the main trends and state policy in the field of digitalization of education; challenges of the market and the position of the business as a potential employer.
Leading global researchers and organizers of online learning, representatives from education, business and technology.
Unique studies of online education. Ideas and new solutions obtained during the intersection between scientists and practitioners.
Who should attend eSTARS

Legislative and executive authorities
to keep up with the development of online education and regulate these process

Heads of universities and educational organizations
to understand the lastest trends and identify roles they can play in education reform

ELearning and pedagogical researchers
to share their latest ideas and highlight points of growth on the market

Managers of online educational projects
to create better solutions using the latest technologies

Heads of corporate universities
to learn about improving human potential and building stronger teams

Distance learning professionals
to get inspiration from experts and create effective learning programmes
Main topics
Strategies of State Policy in Education Transformation
Transformation of University Infrastructure and New Challenges from Stakeholders in Business, Government and Education
Impact of Digital Transformation on Higher Education: Current Trends
eLearning Market Researches and Educational Product Portfolio-Building Practices
Personalized Educational Trajectories: Using Big Data for Adaptive Systems
Data Analysis and Psychometrics in eLearning
Evaluation of Effectiveness of New Approaches in eLearning Process
Psychological Aspects of Online Learning
Economics of Online Learning
Sociology of Online Learning
eLearning from the Perspective of Philosophy and Cultural Studies
Headline

Yaroslav Kuzminov
rector, HSE University

Jeff Maggioncalda
CEO Coursera

Luciano Saso
president of UNICA

Betty Vandenbosch
Chief Content Officer
Coursera

Sergey Roshchin
Vice-Rector, HSE University

William Kuskin
professor, Faculty Director for Online Innovation in CEAS
University of Boulder, Colorado
Organizers

Consistently ranked as one of Russian's top universities the Higher School of Economics (HSE) is a leader in Russian education and one of the top economics and social sciences universities in Eastern Europe and Eurasia. The co-founder of the Russian National Platform for Open Education, HSE includes MOOCs into its curricula since 2013.
#1 among Russian universities on Coursera
#5 in terms of total courses on Coursera
>3,000,000 learners
>200 online courses
1 online master degree
The world's largest online learning platform for higher education. More than 200 of the world's top universities and industry educators partner with Coursera to offer courses, Specializations, certificates, and degrees that empower over 65 million learners around the world to achieve their career goals. 2,000 companies trust the company's enterprise platform Coursera for Business to transform their talent. Coursera for Government equips government employees and citizens with in-demand skills to build a competitive workforce. Coursera is backed by investors that include Kleiner Perkins, New Enterprise Associates, GSV Capital, Learn Capital, and SEEK Group.
200+ top global universities
8 universities and 2 industrial partners from Russia
65,000,000 learners
300+ specializations and 17 degrees
Event partners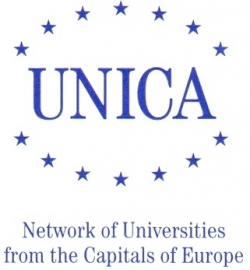 UNICA is a Network of Universities from the Capitals of Europe, founded in 1990. Currently, it includes 53 Higher Education Institutions from 37 European capitals combining over 175,000 staff and 1,950,000 students. Russia is represented in UNICA by HSE University, Lomonosov Moscow State University and Peoples' Friendship University of Russia (RUDN).
Previous events
eSTARS 2018
More than 500 visitors over the course of 2 days.
16 countries were represented.
Leaders and professionals from 14 foreign universities, leading Russian experts, representatives of the Ministry of Education and corporate business.
eSTARS 2017
More than 400 visitors attended the 1st eSTARS.
11 countries were represented.
Leaders and professionals from 56 universities, leading Russian experts, representatives of the Ministry of Education and corporate business.
Contact information
eSTARS@hse.ru